'With you Japan' Programe
"With you Japan" (WyJ) was created by Takuma Sato on March 27, 2011 with the purpose of supporting children who are trying to beat the tragedy of The Great East Japan Earthquake.


Upon its establishment, the IndyCar Racing League also announced its full support of the project. In a show of solidarity, many of his professional colleagues including Dario Franchitti, Danica Patrick, Marco Andretti and Tony Kanaan donated their driving gloves for a charity auction as a symbol of America and Japan joining hands to help each other.

Phase 1: 2011~2013
As a founder of WyJ, Takuma called for help in the race weekends and several fund racing activities were organized in the USA. When he returned to Japan between races, he visited the disaster struck ares to understand the impact on the situation.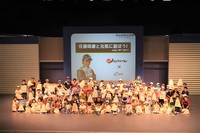 In 2014, the new "TAKUMA KIDS KART CHALLENGE" was introduced in order to show children the importance of challenging the spirit to try new things. Main targets were elementary school children (between 6 -12 years old). Each year, we set up a special slogan and objectives and designed and developed activities accordingly.
In commemoration of Takuma's victory in the Indy 500, WyJ developed the project to enjoy new and/or unfamiliar sports and cultural experience, "With you Japan Festa" (WyJ Festa)". With warm support from many of organisations and athletes who responded to Takuma's call, WyJ achieved the new and bigger sports oriented event. The original KIDS KART CHALLENGE events have also developed under the new name of "TAKUMA KIDS KART CHALLENGE" and have become the major and long term fund raising stations for the charity events.
   
CHARITY HELMET
Fund-raising charity auctions are organised and Takuma's special helmets, which he wore at the race, were auctioned. Proceedings from the auction is donated to the WyJ activities projects.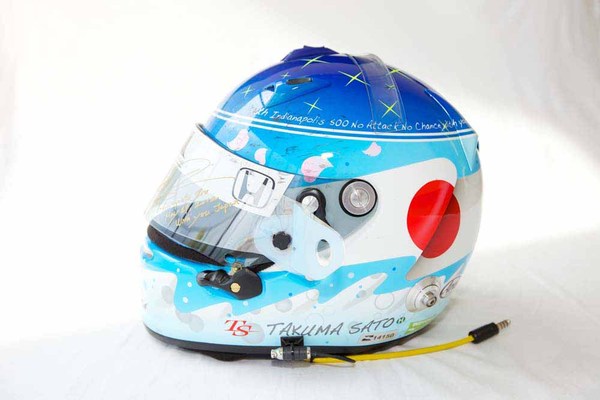 CHARITY GOODS
Charity goods with "With you Japan" logo have been produced and proceedings have been donated to support children in Tohoku area through WyJ.